Stomp Rocket Stunt Planes, 3 Planes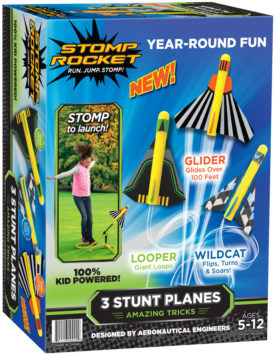 Run, jump and stomp to launch the Stomp Rocket Stunt Planes! These kid-powered planes soar, loop, and flip as you experiment with aerodynamics.

Stomp Rocket Stunt Planes are completely kid-powered, with a soft and sturdy foam construction. Includes 3 different style planes.

Launching and retrieving the rockets promotes gross motor skills and physical activity. 

Soft foam tips and sturdy construction help to ensure that the rockets are safe for children of all abilities, making it easy for kids to develop social skills while playing together.

5 Years to 12 Years.