Snap Circuits Jr. SC-100 Electronics Discovery Kit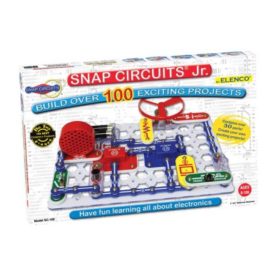 Snap Circuits makes learning electronics very easy and fun! Just follow the colorful pictures in the manual and build exciting projects such as a flying saucer, alarms, doorbells and much more!
All parts are mounted on plastic modules and snap together with ease.
No tools required. Includes Projects 1-101 manual.
Includes 30 parts, and instructions for over 100 projects.

Electrical parts provide students grades 2 and up (age 7+) with hands-on experience designing and building models of working electrical circuits.