Melissa & Doug Deluxe Pounding Bench Wooden Toy With Mallet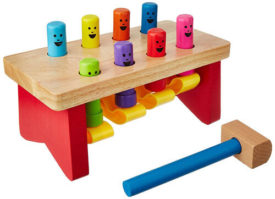 The pegs on the bench go up and down, playing peekaboo on this solid wood pounding activity. 

Non-removable pegs take turns showing their smiles while your toddler has fun naming the colors and practicing fine motor skills.

It builds motor skills, hand-eye-coordination, and even thinking skills–as deciding which colors should be up or down or evenly matched in height requires some intricate choice and physical application.

It's solid wood and very sturdy, it can take all the abuse a rough and tough toddler can dish out.

Ages 2 years and up.