Melissa & Doug Catch & Count Wooden Fishing Game With 2 Magnetic Rods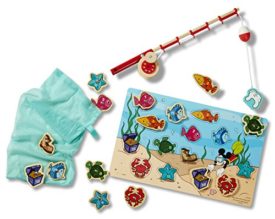 The 10 magnetic fish are numbered and patterned to enrich matching, sorting, and counting activities, and two wooden rods make collecting them a blast!

Kids can use the spinner to play as a game, or just have fun collecting the pieces over and over again. 

It's great for developing concentration and manipulating tools to accomplish a task.

The magnets are strong enough to pick up the fish and hold on and the poles are sturdy and the turn on the pole moves with ease.

It teaches kids to work on colors, numbers, and turn-taking.