Elenco FM Radio Kit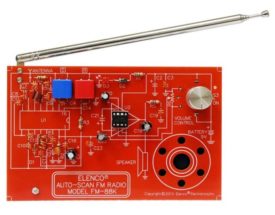 The Elenco® CK-1000 Basic Electronic Parts Kit includes a wide variety of basic electronic parts to satisfy almost any training project. Packaged in a handy plastic parts container with 18 compartments.

The kit is a monophonic, two-IC, FM (frequency modulation) receiver designed to receive FM signals in the frequency range (88-108MHz).

 It uses electronic auto-scan to search for FM stations. This scan system is done with two button switches – one switch scans up, the other resets to the start of the tuning position.

Develop good soldering skills.

Will help you understand the basics of working with printed circuit boards.