4M Water Rocket Kit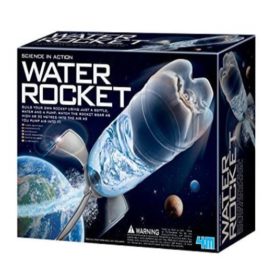 The 4M Water Rocket Kit contains all the parts required to transform a recycled soda bottle into a functioning water rocket.

The Rocket Kit uses the power of water pressure to blast its rocket up to 30 feet in the air.

Contains 1 x plastic bottle (rocket body), 4 fins(One for spare), 1 x fin support, 1x bung, 1 x bung connector, 1 x pump connector and 1 x extension plastic pipe.

Ages 14+

This kit is perfect for young science enthusiasts, especially those interested in rocketry and space flight.