4M Crystal Growing Experiment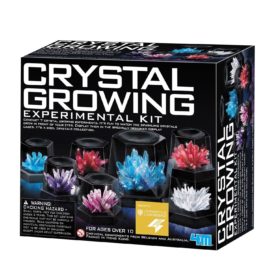 Grow and display your own vibrant collection of colorful crystals!

Using the included crystal solutions and tools, kids simply follow the detailed, step-by-step instructions to create the liquid from which a collection of mesmerizing crystals will actually grow.

Encourages logic, scientific learning and exploration.

Includes 3 large bags containing white crystal compound (base compound called mondammonium phosphate), 3 small bags containing seeding mixture, large display base with hexagonal cover, 2 medium display bases with hexagonal covers, 4 small display bases with hexagonal covers, stirring bowl, stirring spoon, large ring-shaped template, 2 medium ring-shaped templates, 4 small ring-shaped templates.

By the time you're finished with this kit, you'll have SEVEN different crystals to put on display.